This weekend the National Geographic Channel is airing the two-hour special "American War Generals," which I narrate.  It premieres this Sunday, Sept 14, at 8pmET.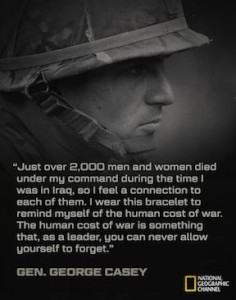 The interviews and material are fascinating.  The generals, nearly all of them household names, offer perspectives and information we rarely learn from reports on the wars.  The NatGeo site has this synopsis:
"Powell. McChrystal. McCaffrey. Petraeus. Clark. For the first time, National Geographic Channel gathers the nation's leading war generals for an unprecedented look at 50 years of military history, from the Vietnam War to America's war on Al-Qaeda. The two-hour special American War Generals reveals never-before-heard stories and insightful opinions from eleven active and retired U.S. Army generals. Their accounts take us through the big changes that have transformed the U.S. military from the first troops to enter Vietnam to the last combat troops to exit Afghanistan, explaining the critical personal experiences that shaped their lives and the way they approached modern warfare."
PS If you'd like to receive an email when my new projects air, you can sign up to the left.  It's usually 2-3x/year.
*************
The NatGeo page for the show
Washingtonian's piece on the premiere
Posted in
News & Events
,
Other Photos
,
Press
,
TV
,
Voice