LA Theatre Works is a terrific theatre series of 'radio theatre.'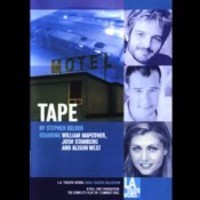 Actors read a play aloud on stage, but in front of  a live audience. The performance is also taped, and LA Theatre Works offers the performances either on CDs or via download. Some of our greatest actors have participated over the years: John Lithgow, Alfred Molina, Marsha Mason, David Straithairn, Paul Giamatti, Laurence Fishburne, etc.
Actors love the series, because the entire process – rehearse, run through, several performances – takes only an entire week. Which spares the actors some of the self-imposed pressure to be amazing.
In 2003 I did a performance there of Stephen Belber's 'Tape.'  This week only it is streamable for free.  After that you can buy it through their site.
Tags:
LA Theatre Works
Posted in
Acting Projects
,
Los Angeles
,
News & Events
,
Voice