I love that advice.  In other words, just get the darn thing out the door.  And this site is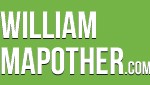 just that darn thing.
Welcome to the new WilliamMapother.com.
It isn't perfect or complete, and some may call it barely serviceable, but at least it's out the door.  I intend to take a page from the playbooks of the best tech companies and iterate frequently, instead of tweaking endlessly toward some vague notion of perfection.
So — plenty of more content will be uploaded in the coming days, weeks and months, and if there's anything you'd like to see, please let me know (on the About page).
In the meantime, I'm glad to have you here.
*credit and thanks for this phrase to Nelson Cheng, a Slated advisor and ex- of Google and Amazon.
Posted in
News & Events
,
Slated
,
Website & Social Media